Stretchy belt
The Ideal Elastic Belt for Automotive.
THE STRETCHY IS A POWER TRANSMISSION BELT
WITH MULTIPLE LONGITUDINAL RIBS.
The Stretchy belt transmits the torque by contact with the belt rib flanks and the pulley grooves.
The Stretchy belt powers the Front End Accessory Drive (FEAD) of cars and trucks through:
FEAD system optimization.
Optimized power transmission.
Eliminates need for tensioner.
Retains stable tension throughout product lifetime.
Reduced costs and weight.
AUTOTENSION
Our belt is used on a fixed center-to-center distance and automatically maintains systems tension. It does not require any additional tensioner.
It can be installed as a "snap-on" or via an on/off idler.
The belt tension is constant throughout its lifetime.
FEAD SYSTEM OPTIMIZATION
The Stretchy belt offers simple design and reduced packaging of the FEAD system.
As the expert in its field, Hutchinson has initiated 95% of elastic belt conversions.
As the inventor of the elastic belt, we are considered the worldwide technology expert.
COSTS AND WEIGHT REDUCTION
The tensioner removal allows cost and weight reduction across the entire system thanks to optimum power transmission.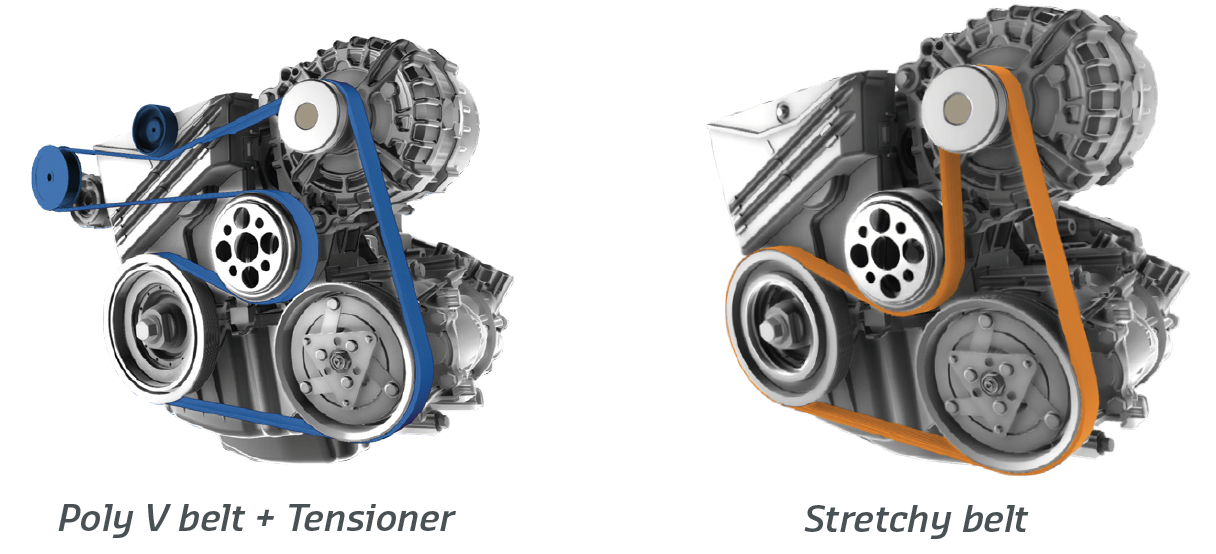 More details in our Stretchy Belt leaflet.