V-belt can be converted
to Hutchinson ribbed belt.
WHY SWITCH FROM V BELT TRANSMISSION
TO RIBBED BELT TRANSMISSION ?
We offer you to convert Vbelt transmission to ribbed belt transmission.
Here are the main advantages of this conversion:
THE EFFICIENCY OF THE TRANSMISSION
Higher power transmission by continuous and uniform cord.

A larger contact surface than V belts.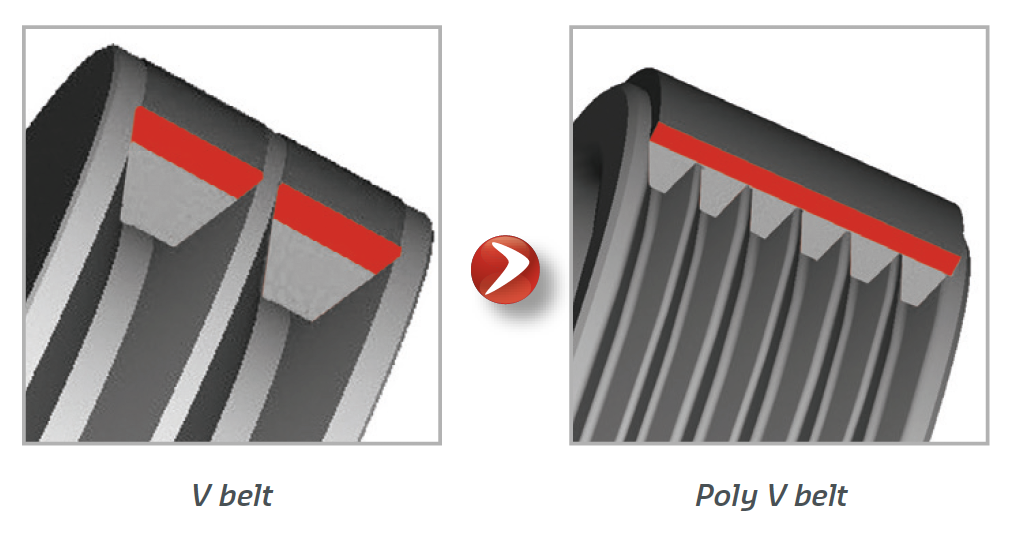 Technical studies have revealed that at the same tension and with the same geometry the Poly V compared to V-Belt has an upper yield : it is situated on average around 98 %, a fact that reduces electricity consumption and the size of the motor.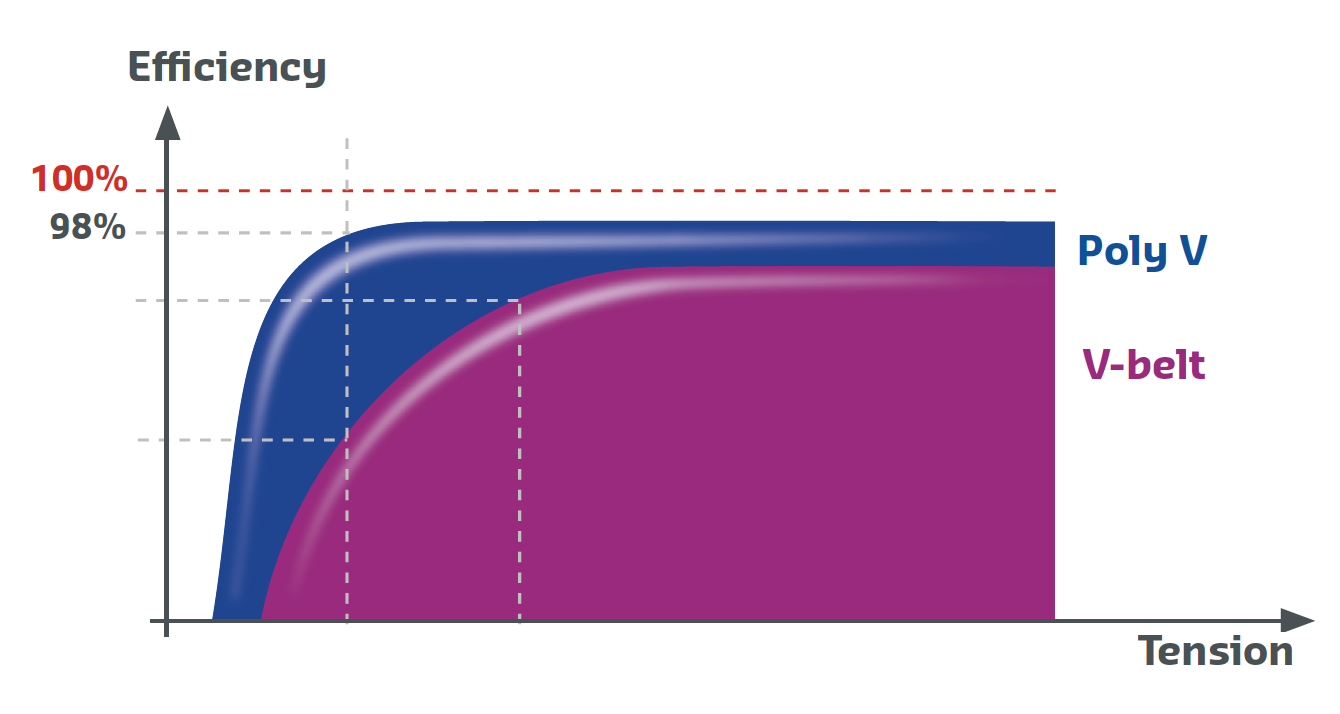 THE COMPACTNESS OF THE TRANSMISSION
Higher transmission ratio
Ribbed belt 1: 60 vs V belt 1: 20.
Avoids the need for staged pulleys.
Reduced diameter of the pulleys
The minimum diameters of ribbed profiles are smaller than those of V-Belt profiles.
Reduced weight of the transmission
No need for a tensioner.
Reduced belt width for a given geometry and the same power transfer (small ribbed pulley).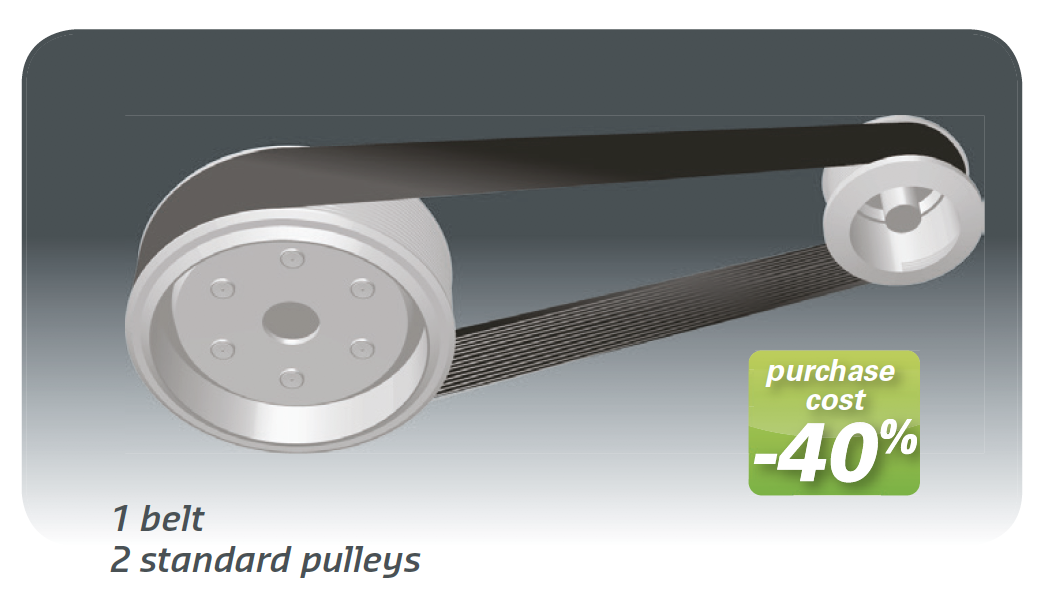 Moreover, the Poly V can operate in flexion and counter flexion with the following benefits:
A single belt can drive several accessories: serpentine belt installation.
Driving accessories from the back of the belt.
EFFICIENCY
Stable tension: compared to V-Belt no need for matching thanks to the monobloc belt and no differential flapping.
The aging of the belt does not result in any loss of power.
COST REDUCTIONS
PURCHASE:
Reduced diameter and pulley width.
Compared to V-Belt no need for a tensioner with the Flexonic®.
Lighter transmission
Reduced belt length
No need for inertia flywheels in some cases
Machining of pulleys is facilitating: the Poly V can be used on smooth pulleys (receivers).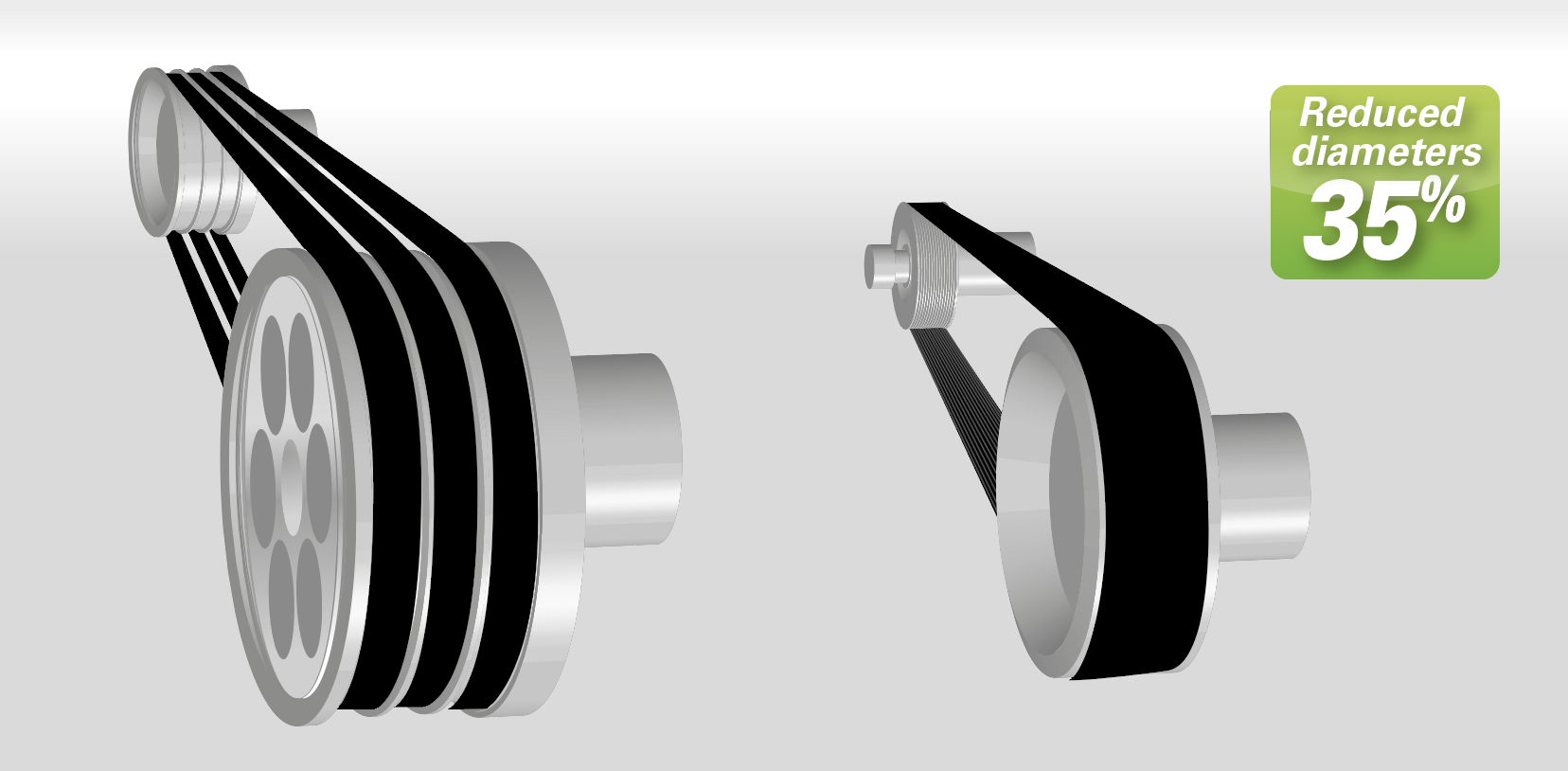 MAINTENANCE:
Rapid set up : 1 PM Poly V can replace up to 25 SPB V belts.
No need for matching
Increased lifespan
No need for re-tensioning and verification operations on the range of elastic belts
The tension of the Flexonic® can be stabilised after just a few minutes in dynamic performance mode.
Tension will not change throughout the lifetime of the belt.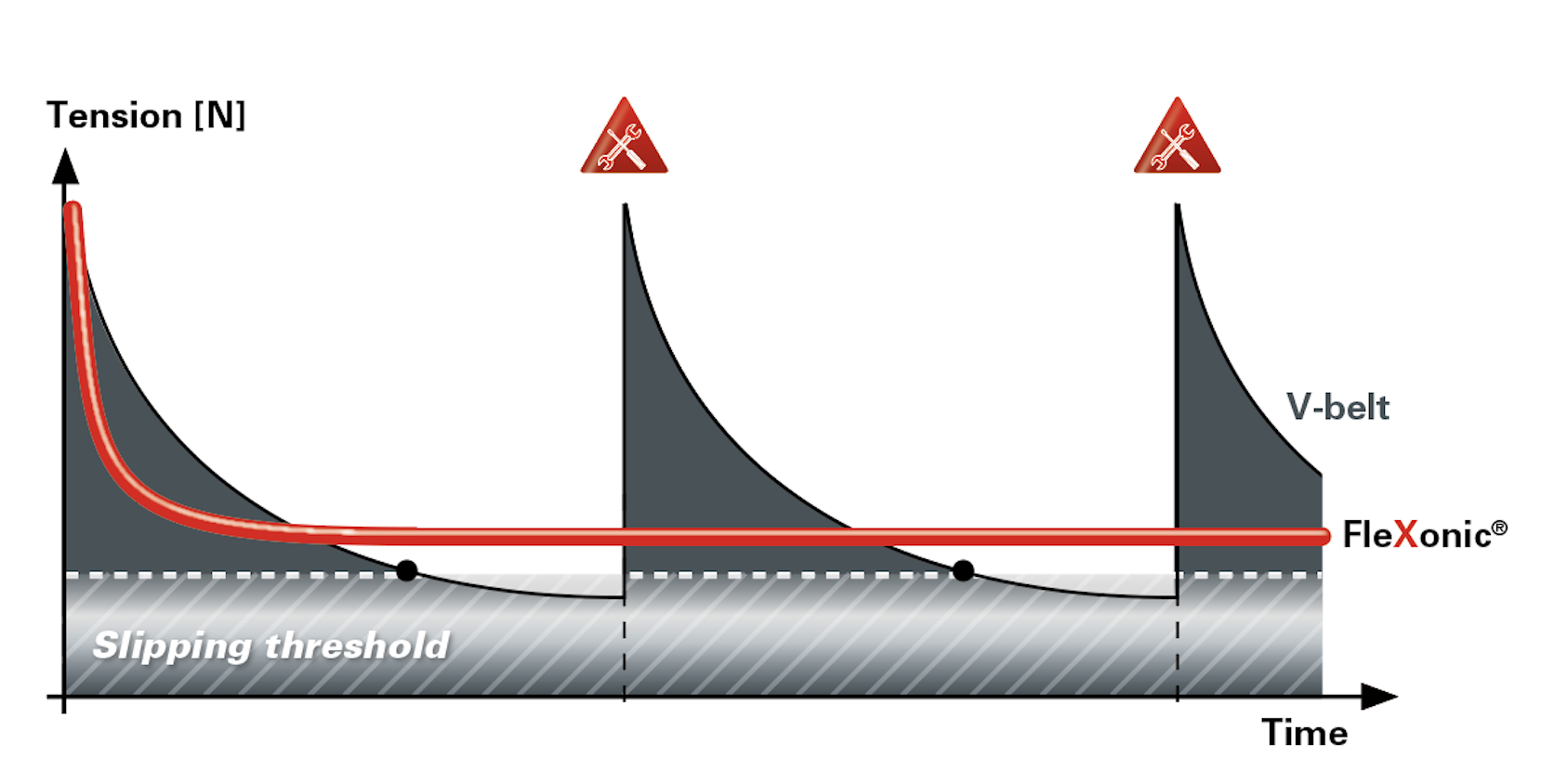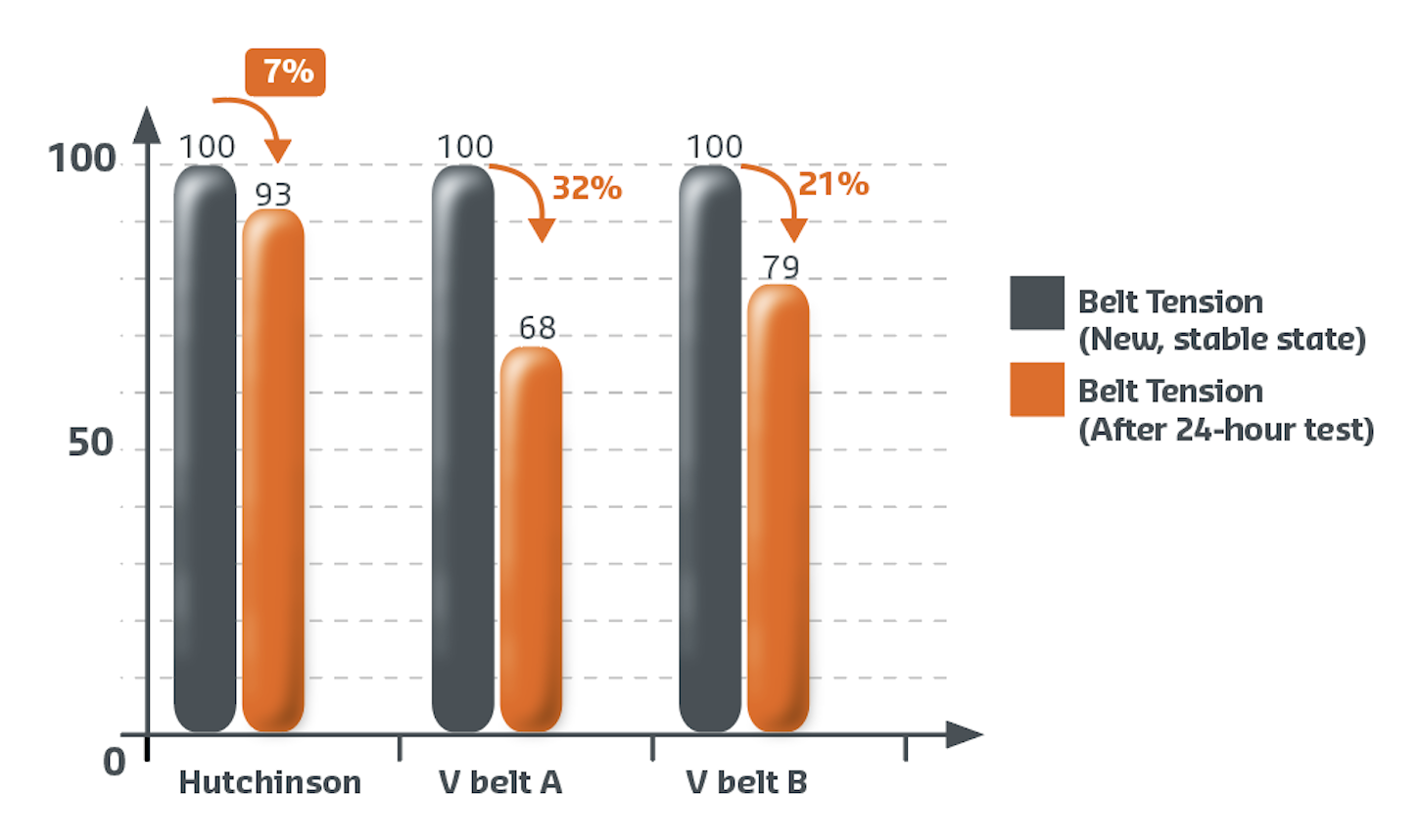 TIME AND PRODUCTIVITY:
Simpler factory installation of the Flexonic®: time savings and productivity gains.
Installed on fixed center distance with standard grooved pulleys
Automatic tensioning
OPERATIONS:
Reduced energy costs (better transmission effi ciency)
Increased lifespan of the belt.
STORAGE:
Standardisation and rationalisation of references.