Poly V Reloaded®
The belt for severe applications
THE POLY V RELOADED® IS A POWER TRANSMISSION BELT
FEATURING MULTIPLE LONGITUDINAL RIBS.
Poly V Reloaded

®

 transmits the torque by contact of the belt rib flanks and the pulley grooves.
Compactness
Various improvements
Global cost reduction
POLY V RELOADED

®

 BELT APPLICATIONS 
The Poly V RELOADED® belt can be used on all severe applications that require better breaking strength and higher tension, with reduction of pulleys diameters for example:
Kneading machine
HVAC (ex: Industrial A/C)
Genset
Energy (ex: Crude oil pump)
Machine tool (ex : CNC Machine)
Screw compressor
Centrigugal blower
Wood chipper
COMPACTNESS
Poly V Reloaded will yield 98% efficiency and transmit up to 40% more power than a «standard» Poly V PL with the same width, this can lead to a reduction of the width of belt & pulleys by at least 25%.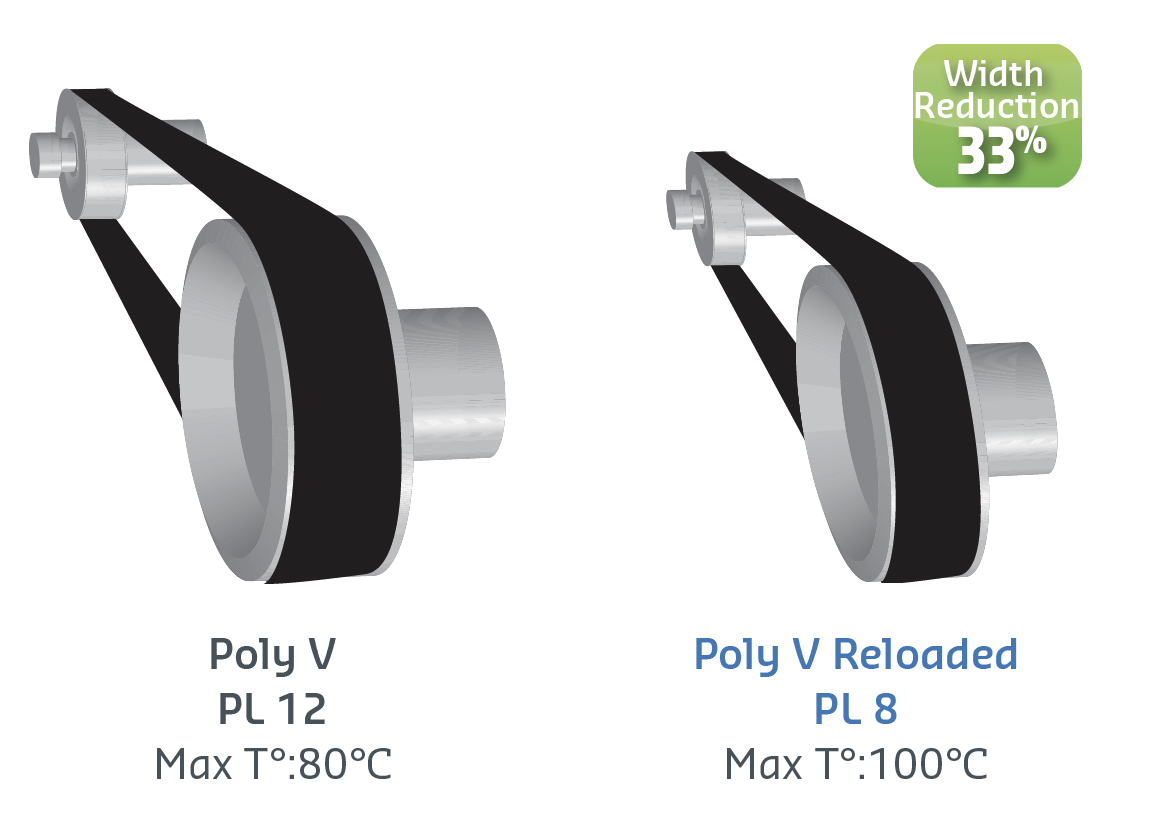 VARIOUS IMPROVEMENTS 
The reduction of the number of ribs allows to:
Limit the friction and therefore reduce the noise
Reduce bending at the extremity of the shaft
Reduce energy consumption
Reduce the global weight of the transmission
GLOBAL COST REDUCTION
Decrease in pulley and belt width reduces overall transmission acquisition costs from 10 to 20%.
More details in our Poly V Reloaded belt leaflet.